Britain's best bread saw. The best bread knife.
The JonoKnife is a handcrafted bread saw; it uses an extra thin Sheffield made blade to slice bread. Slicing the very crusty and the super soft, the JonoKnife is far better than any normal bread knife on the market. Learn more about JonoKnife, the best bread knife below.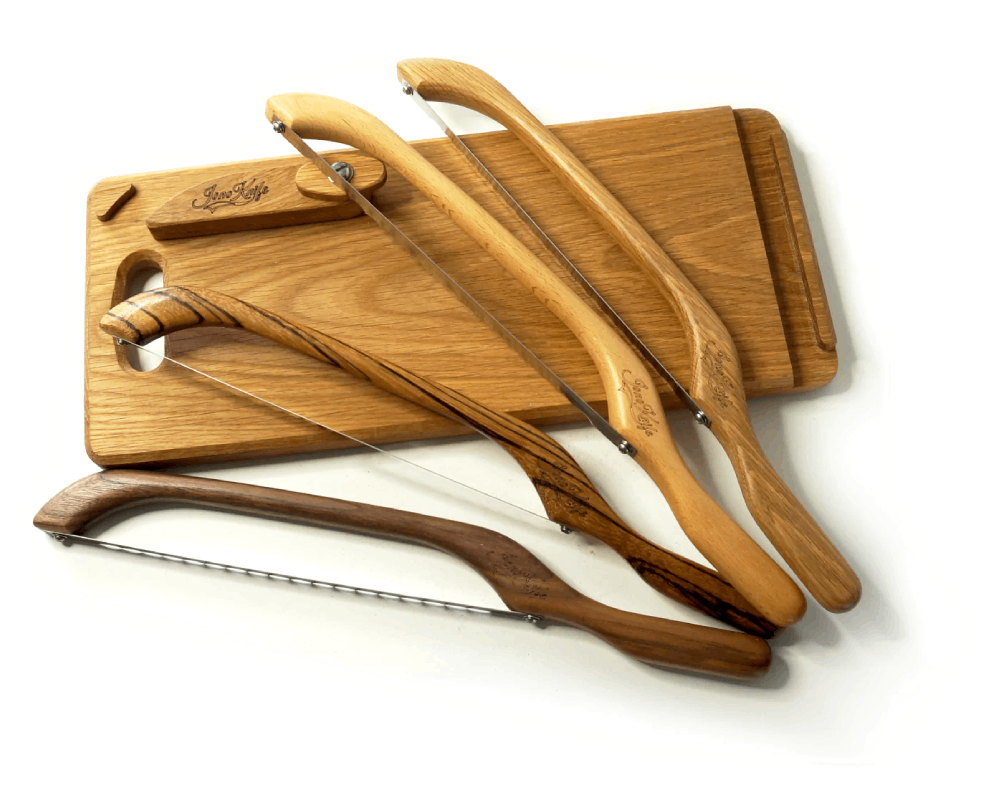 An age-old bread saw redesigned for the modern era.
Slicing bread with greater ease, with thinner & straighter cuts.

Watch our fiddle bow knife live in action.
Slicing bread with greater ease, with thinner & straighter cuts.
Discover the best bread knife
Handcrafted on a small farm in the English countryside; the JonoKnife is inspired by an age-old bow bread saw or fiddle bow knife design from the Appalachian Mountains in America. Hear from our bread saw maker in this exclusive interview.
How our bread saw fiddle bow knife works
The Sheffield made scalloped blade is about 4X thinner than a normal bread knife blade. Because of this it slices soft and fresh breads with hardly any pressure and will cut hard crusty bread like a sourdough easier than you could imagine! Our knives are available in a variety of woods and come in left and right handed versions.
JonoKnife is the best fiddle bow bread knife choice as we offer…
The Original JonoKnife:
Comes shipped with a stainless steel blade, which lends itself as a great general bread knife. This knife cuts loaves up to 20cm wide. Works well with other food items
The XL JonoKnife:
Comes shipped with a carbon steel blade, which lends itself well for large & crusty loaves. This knife cuts Loaves up to 30cm wide. The Professional's choice.
The Magnetic Blade Guard:
Free with all JonoKnife models. Made for safe & easy storage. Designed for the JonoKnife.
Information on using your knife here…
The JonoKnife breadboard:
We have designed a special breadboard to work exclusively with the JonoKnife. More on this below…
New Crust Buster! Our JonoKnife kitchenware set.
Our new bread board; designed for JonoKnife – the best bread knife.
See it in Action!
"Crust-buster" groove helps with tough bottom crusts

Latches knife to board for easy and safe storage

Tough rubber feet keep board sturdily in place

Compatible with both Original and XL JonoKnife
Five Star Reviews on Google.
Read what our happy customers have to say about Britain's bread saw.
I absolutely love my Jonoknife! Cutting my rustic sourdough loaves is no longer an extreme workout! Seriously this knife cuts bread like it's going through soft butter. I bought the XL walnut knife, it is beautifully made and simply the best tool for the job.
I ordered the Jonoknife as a gift for my son's 21st birthday , little did I realize it would engage the whole family. With the ability to slice a loaf longitudinally our toastie experience has been revolutionised.
Thanks for your prompt customer service and great product
I bought a JonoKnife last month and I am so pleased to say that my son, who had coordination and motor skills issues as he has dyspraxia can now cut a bagel, a slice of bread and a slice of cake! We are both thrilled.
My new @jonoknife bread knife arrived today. This thing is a marvel. It cut bread still warm from the breadmaker with no effort at all. It's the best bread knife I've ever had, and it's shaped like a Bow Saw! They are handmade in the UK as well. It's fantastic.?
A beautifully crafted knife – you can see that a lot of care has gone into making it – and it slices through my sourdough much more easily than any of the other knives I've had. Very happy!
Who knew a bread bow could be so life changing.
In the dark ages this girl could not simply cut a slice of bread…. more like a massacre ending in a wedge shaped bread mass. Not now! Welcome to perfectly sliced bread every time!
Great product, great service! 10/10
This knife is absolutely superb. I am a coeliac and gluten free bread is always terribly hard to cut straight slices without the whole thing turning to breadcrumbs. No such problem for the Jonoknife! Thin, even slices are as easy to achieve as cutting butter. My bread is so expensive, so my investment will pay for itself in no time. Brilliant!
Love my new Jono Knife – the first slice was a "wow" moment! Perfect for my sourdough loaves. Very quick service – I purchased it on a Saturday afternoon and it arrived in Switzerland by the Friday! Jonathan's helpful and prompt advice was appreciated before I made my purchase. I ordered the XL walnut – my only regret is I didn't get it engraved :)
We purchased a JonoKnife about 12 months ago, and it is brilliant and maintained its utility over time. Bread and other things are cut effortlessly. Guests to our home have been impressed, too, and commented on its aesthetics and functionality. We won't need to buy one again, as it remains so sharp, but if we lost it, we most definitely would.